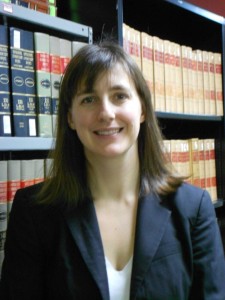 Sarah Brown Davidson grew up in Bradford and Manchester, New Hampshire.  Sarah graduated from Central High School and went on to attend Colby College in Waterville, Maine where she earned her Bachelor of Arts degree in Environmental Policy and received her professional teaching certification.  After one year of teaching, Sarah went on to law school, receiving her Juris Doctorate degree from Franklin Pierce Law Center.  She is admitted to practice law before the New Hampshire Supreme Court and the United States District Court for the district of New Hampshire.
Prior to joining Casinghino Law Office, Sarah was an attorney for five years with the New Hampshire Public Defender Program where she gained extensive jury trial experience defending the rights and providing quality legal representation for the state's indigent population.
Attorney Davidson joined Casinghino Law Office in October 2012.  She provides focused and dedicated legal representation for clients who are injured in motor vehicle and other accidents or who suffer from work-related injuries.
Sarah lives in Manchester with her husband and two young children.